Ali here ~
Big shout out to Siobhan at Siobhan's Novelties for tagging me!! I absolutely LOVE Brave, so this was perfect for me. Siobhan was tagged by Book Princess Reviews, who came up with this awesome tag! Be sure to give both of these blogs a look see! And Happy Father's Day to all you dad's celebrating today!!

Scotland: Land of Magic, Castles, and will-o'-the-wisps
Name a magical book setting 


I can't think of anything more magical than Narnia!
Clan Dunbroch: Merida's family clan
Name your favorite bookish family/gang
This is the first gang that came to mind with this prompt. I can't go wrong with this crew!
Merida: princess, brilliant archer, and doesn't need any man
Name a heroine who doesn't accept her fate
Aelin was the first person that came to mind. She's willing to fight all on her own, and she's not willing to settle for just any guy.
The Highland Games: Eligible Fight for Merida's Hand in Marriage
Name a book where the stakes are high
There are just so many ways that this book fits this prompt, but I am not willing to give anything away. Let me just say go read this duet!!
Changing Fate: Merida Eats Some Enchanted Cake
Name a book where you thought it was going one way, but turned out to be a whole different way
I mean really I could have thrown just about any Hoover book up here. But, again, I could have used Written With Regret/Written With You, too.
Elinor: Mama Turned Mama Bear
Name a character that goes through a big transformation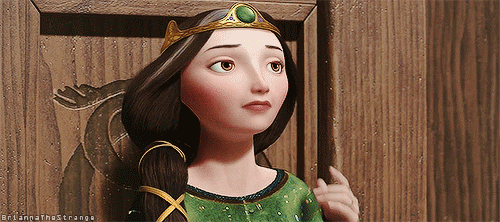 I just love this book! Jane did such an amazing job growing Emma in a realistic fashion that is still so applicable to today!
Bear Brothers: Adorable, Mischievous Baby Bears
Name some of your favorite scene-stealing characters
Lassiter was the first character that came to mind. While this was Thor's book, it was definitely Lassiter that stole the show in this book!
Mor'du: Demon Bear, Secret Prince
A Villain With a Complex Backstory 
Anthony Welles, Earl of Clare, is one character that starts out as the worst kind of villian, but then I just absolutely fell in love with him.
Tag…you're it!
Yvonne @ It's All About Books | Sam @ We Live and Breathe Books | Alica @ A Kernel of Nonsense | You
P.S. I always struggle with who to tag when doing these. If you enjoy being tagged let me know and I'll be sure to throw some your way!!
Ali