Title: Twice Shy
Series: N/A
Author: Sarah Hogle
Release Date: April 6, 2021
Genres: Contemporary Romance
Publisher: G.P. Putnam's Sons
Blurb:
Can you find real love when you've always got your head in the clouds?
Maybell Parish has always been a dreamer and a hopeless romantic. But living in her own world has long been preferable to dealing with the disappointments of real life. So when Maybell inherits a charming house in the Smokies from her Great-Aunt Violet, she seizes the opportunity to make a fresh start.
Yet when she arrives, it seems her troubles have only just begun. Not only is the house falling apart around her, but she isn't the only inheritor: she has to share everything with Wesley Koehler, the groundskeeper who's as grouchy as he is gorgeous—and it turns out he has very different vision for the property's future.
Convincing the taciturn Wesley to stop avoiding her and compromise is a task more formidable than the other dying wishes Great-Aunt Violet left behind. But when Maybell uncovers something unexpectedly sweet beneath Wesley's scowls, and as the two slowly begin to let their guard down, they might learn that sometimes the smallest steps outside one's comfort zone can lead to the greatest rewards.
Amazon | The Book Depository | Goodreads
*****My Review*****
I don't tend to watch a lot of TV or movies, but I do enjoy a good Hallmark movie. One of my favorite Hallmark movies is All of My Heart, which is built around a couple that co-inherit a house. I have always enjoyed that in a book/movie, but I don't see it very often. As usual, I didn't read the blurb before going in, so I didn't realize that was what I was getting with this book, but I was so happy when I discovered it!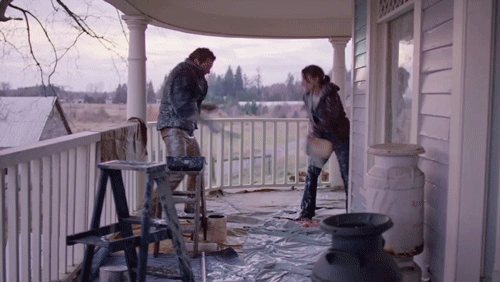 And then I was so surprised when both Maybell and Wesley came to such a quick compromise over sharing it. But, there was still a lot of delicious tension between them. Maybell is a big talker and Wesley could not have been more aloof. He's a big, handsome guy and you get the impression at first that he's just broody and bitter about sharing the house. But, then you get to slowly unwrap who Wesley really is only to find that he's not that broody, bitter person you first thought he was.
And there's another extremely interesting addition to the plot. Maybell's old co-worker catfished her prior to the inheritance, and Maybell had carried on an online relationship with this person for over 2 months before discovering it. The real kicker here, is the way Wesley was involved unknowingly! It added such an interesting dynamic to the story.
Makes me wish I'd had a real Tinder profile that day.
Another fun element to the story was Maybell's aunt, who left the house to them. She leaves them with some rules to follow. These rules include a treasure hunt, a mural painting, and baking among other things. I absolutely loved watching Maybell and Wesley begin to communicate through the painting of the mural! And the other elements bring their own awesomeness to the story, too!
And finally there's one other element that really comes to play throughout the story and that's mental health. I don't want to go into details and give anything away, but it's a big part of character development and growth in the story that really added to some of the sweetest moments!
I am bubbles and butterflies.
There were a few issues I had while reading. A big one for me was understanding Wesley's character as who he really is comes to light. I had a hard time grasping who he was for a little bit, and I didn't like that. But, ultimately I loved his character, and it was just super sweetness from that moment of understanding on. I rated this one 4.25 super sweet stars.
*Please check out trigger warnings elsewhere if you have triggers. I tend to overlook adding them in my reviews.*
***********************************************
Have you read Twice Shy? Are you planning to? Have any recommendations for me with co-inheritance couples?
Happy Reading,
Alison