Here's another batch of quicky reviews ~
Boy Swap by Kristina Springer
My rating: 3 of 5 stars
Let me start with the positives. This is a quick read and has a nice smooth pace throughout. It never dragged for me. There are no confusing scenes or stilted dialogue. I also really liked the hero in the story, although I didn't care for how he handled a particular situation.
Negatives for me~ I didn't care for the main character of the story, and I didn't like that she never learned a lesson herself. She was very vindictive and wanted to place blame on everyone else. What about all she was doing wrong?
The dialogue seemed very immature, too – more fitting to middle schoolers. While this book is advertised for 13 and up and doesn't contain foul language, there are still a lot of references to sex. So, keep that in mind if you're purchasing for your young daughter.
Overall, I think the author is talented, and I would read more of her books. However, I didn't care for the story line in this one. I just didn't feel like lessons were learned where they should have been. I didn't see any redeeming qualities in the heroin.
*I picked up this book when it was free on kindle. As I'm writing this you can pick it up free on Kindleunlimited.*
Aelethia's Hope by Leandra Martin
My rating: 3 of 5 stars
3.5 Stars
So, the big finale didn't do it for me like the first book. I think there was too much fighting for me and not enough good character interaction. There were some scenes that I really enjoyed, but overall I think just too many explanations on the growing battle and then the battle itself for me. I really enjoyed the sweet ending, though!
Obsidian by Jennifer L. Armentrout
My rating: 4 of 5 stars
4.5 Stars!
I was so close to 5 stars with this book, but the ending didn't steal me away. I was sucked in early and then devoured the whole book. But, while the ending was pleasing, it didn't leave me dying to read the next book. I'll say I definitely WANT to read it, but I didn't feel like I had to jump on Amazon immediately to purchase the next book in the series. That's really all that kept this from being 5 stars for me. Well, there were also a couple parts that really had me thinking, "Twilight."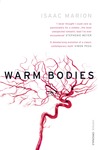 Warm Bodies by Isaac Marion
My rating: 4 of 5 stars
4.5 stars. This is an audio book review. The only thing that kept this from being 5 stars for me is that the scene changes were extremely hard to follow. If I was looking at the physical book then they might have stood out as scene changes, but I couldn't say as I don't currently have the book. I'm hoping to purchase it soon. I tutor a writing class and I'd LOVE to share Isaac's exemplary examples of simile, metaphor, etc. His imagery wasn't just good; it was astounding. I hated that I wasn't reading the physical book. I constantly wanted to bathe in his sentences. They were so beautifully composed!
Aside from his style, I thoroughly enjoyed the story, too. It seemed a great warning to us "living" to make sure we are in deed doing just that! A zombie love story. What else is there to say?
The Edge of Never by J.A. Redmerski
My rating: 5 of 5 stars
This is an audio book review. It took my a little bit to get into the speakers voice but – Absolutely Amazing! I cried like a baby. If you follow my reviews, then you know that's a rare thing for me. I haven't teared up like this since The Infernal Devices. This is a must read (or listen to) for all you NA romance lovers. Content warnings: language and very steamy sex
Happy Reading,
Alison